Masonite: The Beautiful Door
and Quality for Life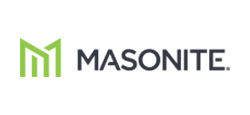 Enhance the functionality of your home with the most beautiful interior doors in the world from Masonite®. A lifetime of quality awaits you. Choose from a wide selection of exceptionally well-designed and crafted closet and interior doors in styles from traditional and timeless classics to distinguished, elegant French looks. The fashion-conscious appreciate the trend-forward appeal of Masonite's updated modern styles. No matter what your personal preference, you will find an abundance of wonderful options to enhance the visual appeal of your space with performance and durability based on Masonite's years of research and development. Choose from economy, standard, and premium-grade door selections in a wide range of gorgeous styles. Unbeatable performance with an abundance of aesthetic inspiration awaits you – that's the Masonite® difference. Let your imagination soar with Masonite's newest exclusive doors designed to perfectly align with your personal style. View available interior and closet door options from Masonite® and contact us to order: (304) 636-2640.