Schluter®-KERDI-BOARD
Elkins Builder's Supply and Builders Center Philippi & Petersburg
If you are planning a tile project or any other building project that requires a lightweight waterproof building panel or substrate, Schluter®-KERDI-BOARD offers the ideal solution. Elkins Builder's Supply Center in Elkins, Builders Center Philippi, and Builders Center Petersburg stock multifunctional KERDI-BOARD and everything you need for building waterproof bath and shower surrounds and assemblies, tile elements, vanities, countertops, and much more. KERDI-BOARD offers the perfect backing for your wet room project – with none of the hassle!
Lightweight
Waterproof
Temperature-Resistant
Impact-Resistant
Dust-Free Installation
Dimensionally Stable
Easy to Work With & Cut to Size With Utility Knife
Easy to Transport
Available in 8 Different Thicknesses
Preprinted Gridlines
Direct Tile Installation With Thin-set
Fiberglass and Cement-Free Gypsum and Backer Board Alternative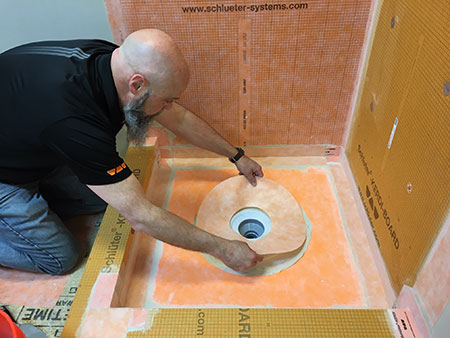 Schluter®-KERDI-BOARD is fiberglass and cement-free, allowing the convenience of dust-free installation. It replaces cement backer board, gypsum board, and other solid backing panels in a wide range of applications, including bonded waterproofing assemblies, tile installations, custom kitchen and bath design, and similar uses.
Bring Your Bathroom Designs to Life
Multifunctional KERDI-BOARD simplifies construction of a wide range of kitchen, bath, and wet room elements. Unlike heavy cement boards, this ultralight material is very easy to handle. Create flat and dimensional tile substrates and designs for your project that are perfectly square, level, and plumb with one of the easiest materials to work with for these tasks. You can bring everything you imagine to life with this innovative backer board from Schluter®.
Extruded Polystyrene Panels for Shower and Bathtub Surrounds, Tile & More
Whether installing tile or building creative bathroom or waterproof designs, Schluter®-KERDI-BOARD offers the perfect integration of form and function. These extruded polystyrene foam panels are specially reinforced with fleece webbing on both sides of the board, providing an ideal anchoring surface for thin-set mortar. A wide range of panel thicknesses are available to meet your needs: 3/16″, 3/8″, 1/2″, 5/8″, 3/4″, 1″, 1-1/2″, and 2″ (5, 9, 12.5, 15, 19, 25, 38, and 50 mm). This advanced material can be used to construct many types of standard and custom design features. Your imagination is the limit!
Showers
Bathtub Surrounds
Wet Room Platforms
Vanities
Countertops
Shelving
Background Substrate for Tile
Contact Elkins Builder's Supply Center in Elkins, Builders Center Philippi, or Builders Center Petersburg to order Schluter®-KERDI-BOARD for your next project and see how simple your next wet room installation can be!