Unparalleled Style and Enduring Performance
Elkins Builder's Supply, Builders Center Philippi, and Builders Center Petersburg carry the finest kitchen countertops for your consideration. Our fresh, stylish designs offer captivating selections to match any design. A wide range of premium minerals and advanced materials offer the ideal solution for your kitchen installation or remodel project.
Quartz: Extreme hardness and durability; Low maintenance; Impervious to temperature change; Resistant to mold and bacteria; A lifetime choice
Corian: Solid body; Engineered for extreme durability; Extremely resistant to stains and scratches
Laminate: Affordable, lightweight, sanitary synthetic; Extensive selection of color and edging options available
Formica: Classic laminate surface; Lightweight; Appearance of natural wood, stone, and more; Minimal maintenance
Fine Quartz Kitchen Countertops by Cambria
Cambria® quartz countertops are the finest and most glamorous choice for your kitchen counters. Built for life, Cambria's dramatic American-manufactured natural stone masterpieces exceed the durability of granite, yet they are virtually indistinguishable. For those who prefer the elegant look of marble, but are not interested in the degree of maintenance required, consider scratch-resistant, non-porous quartz. No sealing or polishing is ever needed.
Cambria® offers natural stone masterpieces for a flawless beauty and artistic style designed to last. Elegance does not require compromise when you choose Cambria®. Practical functionality for high-use kitchens is now a reality. View the complete Cambria® countertop collection of over 133 exquisite classic and contemporary quartz options when you download Cambria's app for your iPhone or iPad.
Let us know what style you prefer for your new kitchen. Contact us for prompt, personalized service: (304) 636-2640.
HanStone Quartz Kitchen Countertops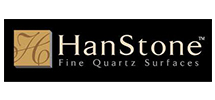 HanStone's quartz kitchen countertops are exceedingly beautiful, non-porous, stain and scratch-resistant, hygienic, and made from one of the strongest and most durable materials on the planet. Choose HanStone® for high quality that handles real life. Classic modern marbles in white with charcoal veining, rich sable, flawless white, metropolitan grays, specchio white, bold blacks, and much more await you.
Colorful Pionite Laminate Countertops for the Kitchen
Pionite® offers high-pressure laminate countertops that meet the performance requirements of residential applications. Classic traditional styles and the most current trendy designs are available. Select your perfect countertops from Pionite's exciting array of colors, textures, styles, and patterns, including many natural-looking options:
Explore all of Pionite's countertops for the kitchen with The Panolam Visualizer, and let our friendly customer service team know which you prefer. We will place your order right away. Call us at: (304) 636-2640.
For personalized service, contact us. Our Kitchen Design Center services are available for contractors and homeowners. Call for a complimentary consultation: (304) 636-2640.