The Best in High Quality
Cabinetry for Your Kitchen
At Elkins Builder's Supply, Builders Center Philippi, and Builders Center Petersburg, our buyers search the world over to locate and offer you the very best in fine, high-quality kitchen cabinets. It is not surprising that some of the finest cabinetry in the world is made from wood grown right here in the beautiful heart of the Appalachian Mountains by fine local furniture craftsmen. Surround your family with exquisite wood species in a full range of tastefully luxurious finishes and styles including many traditional and contemporary options.
Luxurious Premium Hardwood Cabinets
Our exceptional manufacturers offer premium features and high-end quality to give your kitchen an air of sophistication and grace. Choose from Soft-close Whisper Touch™ hinges and runners, solid hardwoods with fully finished interiors, robust dovetail joints, sturdy solid shelving, I-beam construction, luxurious rounded face frames, custom modifications to fit your exact room dimensions, adjustable designs, and many other features that can be very difficult to find at any price. We bring it all together for you.
Your Exclusive Local Cabinetry Dealers
Elkins Builder's Supply, Builders Center Philippi, and Builders Center Petersburg take pride in being your exclusive, select local distributors for the finest locally-made, handcrafted cabinetry. We support our dedicated area craftsmen who work hard to create exquisite, distinctive cabinets that fit perfectly in to your custom kitchen. For superior reliability and performance that cannot be found elsewhere, ask us about cabinetry lines by local cabinet makers. Upgrade your kitchen with superior craftsmanship and enduring beauty that you will appreciate every day.
Kraftmaid Cabinets for the Kitchen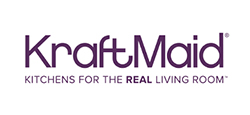 KraftMaid® and KraftMaid Vantage® kitchen cabinetry is solely available from carefully selected factory-authorized distributors. As your KraftMaid® exclusive dealer, our team of experts will work directly with you to ensure that you are completely satisfied with your order. We welcome you to visit our design center for complimentary assistance with selecting the best sizes, styles, configurations, finishes, doors, construction, and other unique options to meet your needs. On request, we will come to you to take precision measurements of available space to ensure the ideal fit and maximize the functionality of your installation.
KraftMaid® offers exceptional kitchen cabinetry with integrated lighting, glass doors, decorative hardware, and innovative storage solutions for your dream kitchen. A wide range of custom options and value-added features are available, including:
Order Waypoint Custom Kitchen Cabinets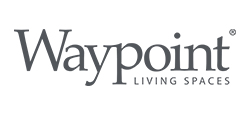 When it comes to cabinetry design innovations, Waypoint® leads the pack with maximum functionality, as well as enhancements to magnify the overall appeal of your kitchen. Choose from brilliantly elegant lines, rich finishes, and carefully selected hardwoods to add beauty to your kitchen's main backdrop. Many sophisticated and unique glass designs are available, including frame, ribbed, frosted, twilight, Havana, Lisbon, and many others. Explore Waypoint's available high-quality options at your convenience, or contact us to schedule a free in-house design consultation.
Find the style that best represents with Waypoint's Style Quiz.
Kitchen Cabinets by Merillat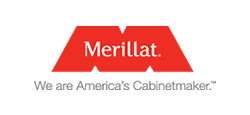 For exclusive, trend-setting designs, unique modern storage solutions, and dramatic design options, consider Merillat®. When a fresh installation or remodel is imminent, Merillat® is sure to impress. Store your K-cups in a dedicated and well-organized drawer, select unified utensil drawers, hidden wastebasket storage, pull-down cookbook racks, on-the-door spice racks, and much, much more. Total organization and a streamlined life starts here.
Choose your kitchen cabinets from Merillat's Classic and Masterpiece collections in hundreds of solid wood, laminate, and advanced material options including Cherry, Maple, Oak, Foil, and Evercore. Finish your look with rich grays, browns, blacks, neutrals, and more. Create a look that represents your unique style with beaded, slab, recessed, or raised shape doors. Preview the kitchen planner below and call us for precise measurements and complimentary design assistance: (304) 636-2640.
---